Deadline for abstracts: 31 of October 2016
The "European Conference of Tropical Ecology" – the annual scientific meeting of the Society for Tropical Ecology (GTOE) – will be organized in 2017 for the first time in Brussels, Belgium. The overarching topic will be "(re)connecting tropical biodiversity in space and time". It highlights both the importance of integrating fundamental sciences inferring past processes (e.g. paleoecology, evolution, social history…) to understand current patterns of biodiversity, and the urgent need to reconnect patches of fragmented landscapes if we wish to conserve tropical biodiversity and ecological services of tropical ecosystems for future generations.
Deadline for abstracts and early registration: 31 of October 2016, on the conference webpage: http://www.soctropecol-2017.eu/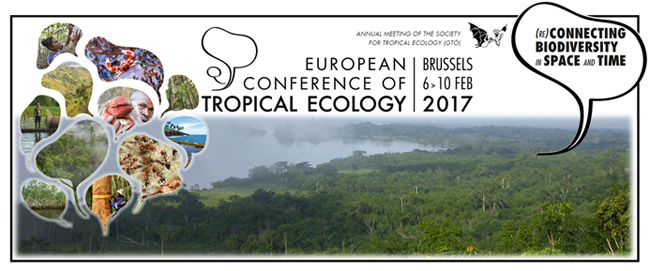 This conference aims to connect researchers at all levels of their career and from all disciplines relevant to tropical ecology, and to promote scientific exchanges and cooperation in a friendly atmosphere. Students and young scientists are very welcome and to encourage them, we make our best to maintain costs accessible to all, including nice social events. Thirty sessions are open, and it is time to register to participate to this stimulating conference!
For more information, please see the official website: http://www.soctropecol-2017.eu/ or the event announcement on our website: http://biodiversity.be/3149